[span6]
Bus Charter – We Take You Where You Want to GO
Since 1984, Delaware Express has been transporting the business and leisure traveler both locally and across the country.
Our experienced staff can help you plan your group's outings to the destination of your choice.¬ We can help you with tickets, seating, hotels, tour guides and more.
Not sure where you want to GO? Our experts can customize a great trip – just for you.
For your next trip, we have several vehicles to choose from, starting with our 6 passenger caravans all the way up to the 56 passenger deluxe motor coaches – we have the perfect vehicle for any occasion – limousines, town cars, SUVs and Mercedes Vans.
Our Traveling for Dollars fundraising program is an easy, effective way for you to raise money for your favorite charity or event while treating your supporters to a great trip to a show, ballgame or historical site.
Delaware Express has the most trusted drivers in the industry with the highest safety rating from the NCAA – the Federal Government including the U. S. Department of Defense and the Transportation Safety Exchange, the recognized gold standard for safety excellence in the ground transportation industry.
Our vehicles are designed for comfort! You can travel on one of our Delaware Express hosted trips to a variety of destinations including regular trips to New York City and Washington, DC.
The fleet now includes a 2013 ADA/Wheelchair lift, 52 passenger motor coach – the only one in the area – as well as two handicapped-accessible vans.
Delaware Express vehicles have low-emissions engines, DVD players, DirecTV, wi-fi, Blaupunkt surround sound, reclining seats, SMARTIRE warning system, and 3 way restraint for your safety and convenience. Our newest coach buses also feature a serving galley in the rear for snack and beverage preparation!
You can also charter a Delaware Express Motor Coach for your next group trip. We specialize in Student Groups, Retail Groups, Charter Groups and Individual Travelers


Motorcoach Terms & Conditions

In accordance with federal DOT regulations, CDL drivers are only permitted to drive 10 hours in a 15-hour workday. Bus jobs which exceed 10 & 15-hr work rules may involve extra hotel expenses and/or relief drivers.
Driver gratuity is not included.
Municipality permits & parking fees are not included.
Coaches are booked & a contract issued only after a $200/bus/day deposit is received via credit card or check, or with an approved direct bill account in place.
Checks may be mailed to Delaware Express, 2825 Ogletown Road, Newark DE 19713.
Delaware Express reserves the right to sub-contract services or equipment if necessary.
Customers will be held financially responsible for damage caused to equipment.
All balances due 2 weeks prior to reservation date.
Delaware Express is not responsible for electronic system (DVD, VCR, CD) malfunctions which may occur during booking periodCancellation NoticeCancellation – 45 days prior to departure date is required for full deposit refund
Cancellation – 45 to 7 days will be accessed a $200 cancellation fee per bus per day
Cancellations – 7 days will be assessed full fare.

PLEASE NOTE: OUR 45 DAY CANCELLATION POLICY WILL REMAIN IN FORCE REGARDLESS OF ANY CONDITIONS CAUSED BY ACTS OF GOD, WAR OR TERRORISM. IF YOUR TRIP IS MORE THAN 45 DAYS FROM THIS NOTICE AND YOU AREN'T WILLING TO ASSUME THIS RISK, PLEASE NOTIFY OUR OFFICE IMMEDIATELY TO CANCEL YOUR BOOKING AND RECEIVE A REFUND.
[/span6]

[span3]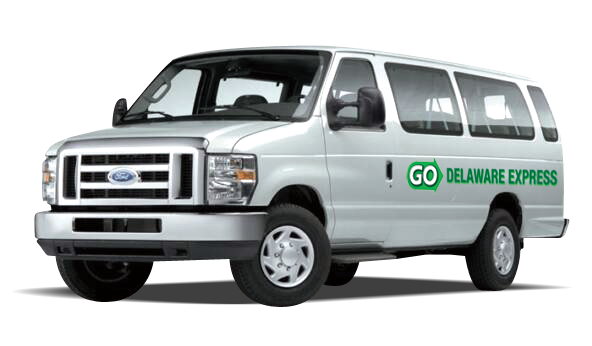 [/span3]