Elena Delle Donne Returns to the Bob on May 1 at 2:00 PM
The Chicago Sky is proud to bring a WNBA Preseason game to the University of Delaware's Bob Carpenter Center for the third consecutive year. The game, played at the alma mater of reigning WNBA MVP Elena Delle Donne, is presented by the Delaware Lottery and will feature the Sky against the New York Liberty on Sunday, May 1. Tip-off is set for 2 p.m. ET.
Delaware Express is proud to be a Transportation Partner with the Chicago Sky and will be transporting Elena and her teammates to the game.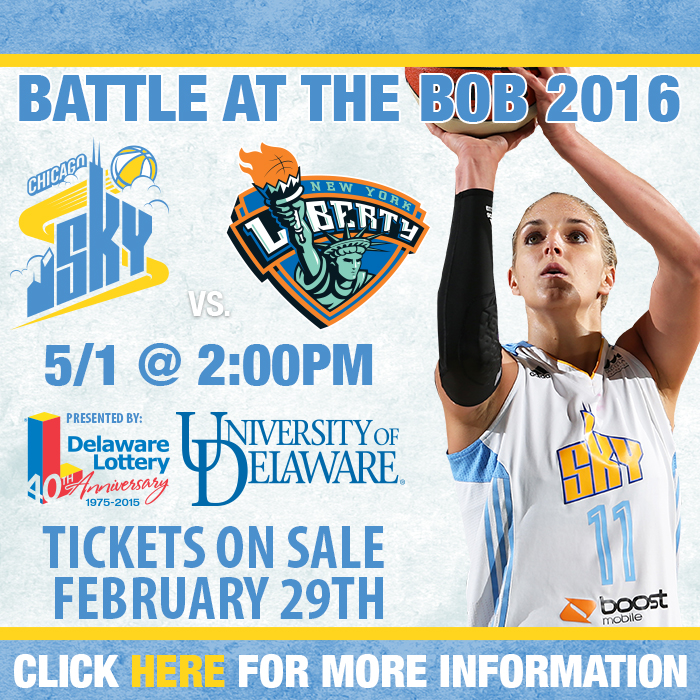 "We are once again ecstatic to welcome back reigning WNBA MVP Elena and her Chicago Sky teammates to the Bob Carpenter Center later this year," said Delaware Interim Director of Athletics, Matt Robinson. "This is an event our fans and our staff have come to look forward to each year, and it always provides a phenomenal atmosphere for fans of Elena, the WNBA, and women's basketball in general. The history of the Sky coming to Delaware is a great example of a strong partnership formed between UD Athletics and the Delaware Sports Commission."
"Delaware has become a second home for us," said Sky Head Coach & General Manager Pokey Chatman. "The support we've received over the past three seasons has been unconditional. The BOB has become a familiar place for our players and an electric environment for WNBA basketball. This year, with the added excitement of Elena returning as MVP, will be very memorable."
Delle Donne began her esteemed career at the University of Delaware in 2009 where she became one of the most successful athletes in the school's history. Now a three-time WNBA All-Star and the league's reigning MVP, she will begin her fourth season with the Sky this May alongside back-to-back WNBA Sixth Woman of the Year Allie Quigley and seven-time WNBA All-Star Cappie Pondexter.
"Being several years removed from college and to see the continued support from fans in Delaware is absolutely unreal," said Delle Donne. "I brag to my teammates all the time about Delaware and why it's so special and every single time we come back, we feel loved."
Tickets for the Chicago Sky vs. New York Liberty preseason game will go on sale to the public on Monday, February 29, 2016 at 8:30am EST. Fans can purchase tickets by phone, online or in person:
Online: Ticketmaster.com
Phone: 1-800-745-3000
In Person: Delaware Ticket Office located at the Bob Carpenter Center, 631 South College Ave, Newark, DE 19716 between 8:30-4:30 Monday-Friday.