Experience the Magic of Christmas In Newport, Rhode Island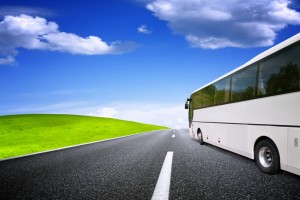 Looking for things to do this holiday season? Experience the wonder and magic of Christmas on a multi day bus tour to Newport, Rhode Island from December fourth through the sixth.
This three-day weekend trip will transport you to the enchanting, sparkling, gold and silver mansions of Newport, decked out in the finest of Yuletide trimmings. The bus tours' agenda will consist of holiday music, decorations, and a visit to The Breakers, The Elms, and the Marble House, where you will see thousands of poinsettias, vintage 19th century ornaments and decorations, evergreens, wreaths, and plenty of other sights to get you into the Christmas spirit.
On the way to Newport, the charter bus will stop at the Newport Winery, where you will be able to bask in the romance of winemaking and taste the local grapes. The group will stay at a Newport area hotel, where you will enjoy a delicious holiday feast, with one of Santa's little helpers included.
The holiday seasons are one of the most popular times to get away. During the month of December, 378 of the country's airports and the national airports located in 31 of the country's states are filled with travelers, looking for the ultimate holiday getaway. But with exorbitant flight costs, hotel accommodations, and expenses for food and beverage, even a weekend vacation can turn into quite a costly affair. Bus tours are an affordable and energy efficient means of taking that wonderful holiday weekend escape with friends and family. In fact, deluxe motor coaches are six times more energy efficient than single occupancy vehicles. And for two nights of accommodations, four meals, admission to a plethora of attractions and deluxe motorcoach transportation, your weekend holiday getaway to Newport can cost you as little as $463 per person for quad occupancy.
Contact Delaware Express today to reserve your multi day bus tour trip and to learn more about Christmas at the Newport Rhode Island mansions and other special events.