Getaway to the Chesapeake Bay This October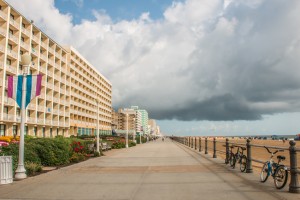 Looking to get away this October? How about a trip down South, where you won't just have an incredible few days away, but you'll also be able to take a look inside history and honor those who have made America the beautiful and free country it is today? On October 21-23, Delaware Express invites you to do just that, on the Virginia Beach Salute to Our Soldier's USO Show getaway. For these special events bus trips, travelers can expect a journey of adventure, history, and of course, a great time!
This particular special events bus trips begins on October 21, when the group arrives in Virginia Beach at 8am. Guests will then check into their ocean front hotel, and can look forward to an authentic Chesapeake Bay Bay-to-Table dinner of blue crabs caught commercially. You will even be taught how to crack the crabs open like a true Chesapeake frequenter.
On October 22, you will visit a myriad of fascinating historical locations, such as the Virginia Beach Military Aviation Museum. At 2pm that afternoon, witness the honor and beauty of the USO Tribute to soldiers of WWII, Korea, and Vietnam.
On the last day, visit the Norfolk Naval base, enjoy lunch at Joe's Crab Shack, and see the sights that the Bay has to offer.
While there are national airports in around 31 states across the country, flying for a small getaway is not always the best way to do it. Especially with ever-climbing, exorbitant airfare costs and inconveniences of travel, sometimes there are better options. Traveling via charter bus offers travelers an opportunity to tour the city of their choice, attend special events, and see the sights at a price that's affordable and in a way that's extremely convenient. Besides, when you travel via charter bus rentals for a multi day bus tour, you get the benefit of helping the environment; in fact, if one chose to switch to motorcoach from their average vehicle, they would save an annual 4.3 tons of carbon emissions per year.
So what are you waiting for? For more information or to book your spot for the Virginia Beach Salute to Our Soldiers USO show, contact Delaware Express today.