3 Incredible Bus Tour Destinations That Are Fun For the Whole Family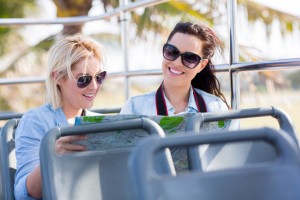 For a North easterner looking to kick back, relax, and have a good time, there's no shortage of fun things to do. But what to do? And how to get there? Bus tours are an inexpensive and great solution to local traveling needs. In the United States alone, there are currently 16,000 vehicles servicing charter services and <bus tours. Through these buses, approximately 631,000,000 trips are made per year. If you haven't considered bus tour getaway travel yet, maybe it's time to get on board.
Check out these 3 great destinations for East Coast bus tours:
Times Square
Stretching from West 42nd to West 27th Street, Times Square is the epicenter of the city that never sleeps. Famously referred to as the "crossroad of the world," Times Square has attractions for family members of all walks of life, and is the destination for those who want to tour NYC the right way. Times Square is the location of the famous New Years ball drop, as well as many beloved attractions such as Madame Tussaud's Wax Museum, Toys 'R Us, Hard Rock Cafe, and many more. Times Square is conveniently located near New York's famed and beloved Broadway spectaculars. So after you tour the city, stroll and enjoy an iconic soft pretzel, or spend the afternoon in a matinee performance! There's nothing quite more New York than that.
Six Flags Great Adventure
If you're looking for the ride of your life, this is exactly where you need to be. Located in Jackson, New Jersey, Six Flags Great Adventure is a theme park that offers fun for the whole family. For those seeking an adrenaline rush or two, there are spectacularly terrifying attractions such as the new and thrilling "El Diablo" and the favorite "El Toro." Six Flags isn't just for thrill seekers; rather, it's a great spot for family members of all ages. The park offers games, rides and things to do that are friendly for all ages and thrill seeking levels.
Atlantic City
We all know what happens in Vegas stays in Vegas. But for us East Coasters, getting to the land of the lucky can be a little difficult. Luckily, we have Atlantic City. Located in New Jersey, this little resort city offers everything from glimmering casinos, to beautiful beaches, to a lively and burgeoning board walk. The boardwalk is host to a handful of piers, as well as amazing shops, restaurants, and attractions. This east coast resort city is a perfect getaway spot for special events, or even an impromptu weekend getaway. The beauty of Atlantic City is its appeal to all ages — adults can throw in their chips and walk away with big wins, and kids can enjoy the surf, sand, and the fun that the boardwalk has to offer.
Booking a bus tour is simple, inexpensive, and is a surefire way to provide fun for the whole family. And while you're saving cash and having a blast, you'll be helping the environment out, too. Motorcoach buses are known to emit the least carbon dioxide and are 6 times more fuel efficient compared to any other single occupancy vehicle. So… what are you waiting for? Get packing!