Delaware Express "Gets There Greener"
We recently arrived at the Department of Transportation (DOT) Earth Day Fair in our University of Delaware MCI J4500 motor coach.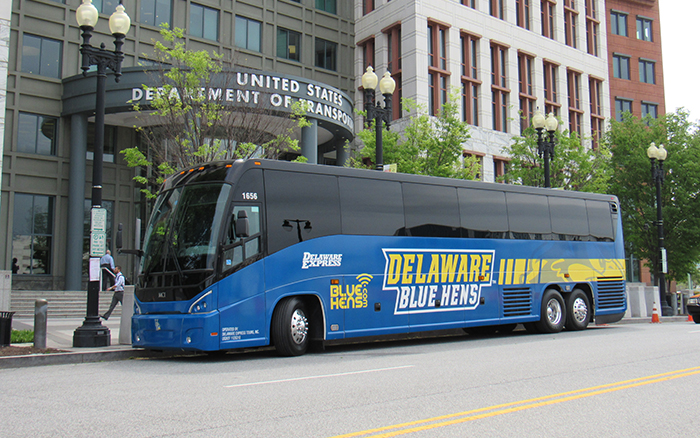 Delaware Express arrived at the U.S. Department of Transportation's (DOT) Earth Day Fair, Des Plaines, Illinois, on April 21, 2016, in the 2016 clean diesel MCI J4500 it uses to carry the University of Delaware's 22 athletic teams to their competitions.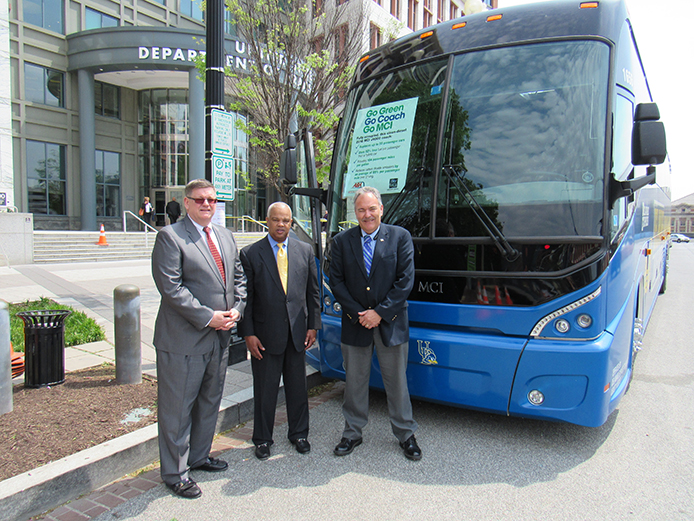 Photo Caption: Federal Motor Carrier Safety Administration Acting Administrator T.F. Scott Darling, III, (center) with Assistance Administrator and Chief Safety Officer Jack Van Steenburg (on left) join Delaware Express' Operator Clark Pyewell on April 21 at the Department of Transportation Earth Day Fair.
With nearly zero emissions and generous hip-to-leg room for 56 passengers, our vehicles remove more than 50 cars from the road.
The Blue Hens ride in style — our specially designed J4500 features an REI Entertainment System with flat screen monitors, power outlets at each seat and Wi-Fi connectivity assuring athletes, coaches and other passengers a productive and comfortable trip. It's a safe ride, too — the MCI J4500 features include Electronic Stability Control and tire pressure monitoring systems.
"We consider it a privilege to transport these student athletes in such comfortable surroundings with the latest in green technology," said Gerry Frenze, president of Delaware Express. "Environmentally friendly transportation is really important to the university audience and we're very proud MCI has created a vehicle that can do it all — passenger comfort, state-of-the-art safety features and the greenest form of transportation on the road."
Motor coaches are the most fuel-efficient, per-passenger-mile mode of motor transportation, surpassing the car, plane or train. Plus, coaches can travel any road to entertainment, sports and vacation destinations. Increasingly, distance commuters are discovering coach transport for comfort, onboard electronics and express scheduling to their workplace with a clean-air option.
Delaware Express was founded by Gerry Frenze in 1985, fresh out of the University of Delaware himself. As a student, he noticed an opportunity for providing safe, economical and environmentally sound group transportation, so he started with airport shuttle vehicles.
Today, Delaware Express is one of the East Coast's major independent transportation companies, growing fast and going green. At 110 employees and 30 years in business, Delaware Express was the first to feature clean-diesel engine technology throughout its entire 24-coach fleet running from Canada to Florida. The company also has 51 vans, a mini bus and one limousine.
We continue to add new coaches featuring the latest in emission control, and we run our fleet of vans and shuttle buses using alternative fuels. Its fuel conservation efforts include GPS systems on its fleet of motor coaches and a driver policy to limit unnecessary idling.
For more information, visit www.delexpress.com or contact us at (302) 454-7800 or (800) 648-5466.