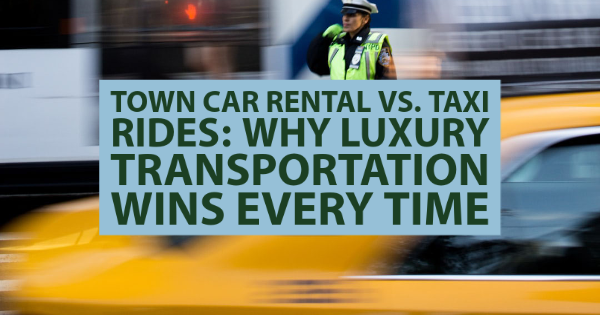 Town Car Rental Vs. Taxi Rides: Why Luxury Transportation Wins Every Time
Whether you're traveling to a new city on business or you're exploring an unfamiliar part of town with a friend, there are a number of reasons why you may not want to travel in your own car. But when it comes time to find reliable transportation, you might not be sure which option will serve you best. If you're in a relatively large metropolis, your choice might come down to a taxi ride or renting town cars. How do you know which to choose?
In today's post, we're talking more about these two enduring forms of transport and why renting a town car can provide you with the superior experience you seek.
Why Renting a Town Car is Better Than Hailing a Cab
Renting transportation for a big business trip or even a personal vacation can be a great idea. Since 33% of domestic business trips taken in 2012 included air travel, scheduling a ride in a town car ahead of time can provide you with valuable peace of mind. Instead of having to wait in a long line at the airport or worry about being cheated by an unofficial taxi driver, you can meet up with your town car driver be on your way.
You'll also have a more luxurious ride when you rent a town car. You'll experience comfortable seats, a smooth interior, and a quiet trip. Your driver will know exactly where you're going and will get you there in style. Although your rental rate may be a bit higher when you rent a town car instead of getting in a taxi, keep in mind that your driver will prioritize your comfort along the way. Avoiding traffic jams, near-accidents, and loud music can be well worth the investment.
Renting town cars also allows you to do your homework ahead of time. When you get into a cab, you'll have no control over the driver or even the taxi company you choose. It's often luck of the draw. And if you're traveling alone, that may make you feel uneasy. Hiring a company that offers easy travel in luxury vehicles will prioritize a pleasant experience. it's not just about getting from point A to point B. It's about putting your safety and comfort first. You can conduct research on the company and its drivers to ensure they have the experience, driving records, and positive reviews that will live up to your expectations.
Renting Town Cars Will Make Every Trip a Breeze
For some people, choosing a method of transportation comes down to what's most convenient at any given moment. But for others, securing travel arrangements ahead of time — and ensuring those arrangements will offer a sense of luxury — will be paramount. If you're looking for a better way to travel, whether it be to and from the airport or just across town, we're here for you. For more information, please contact us today.