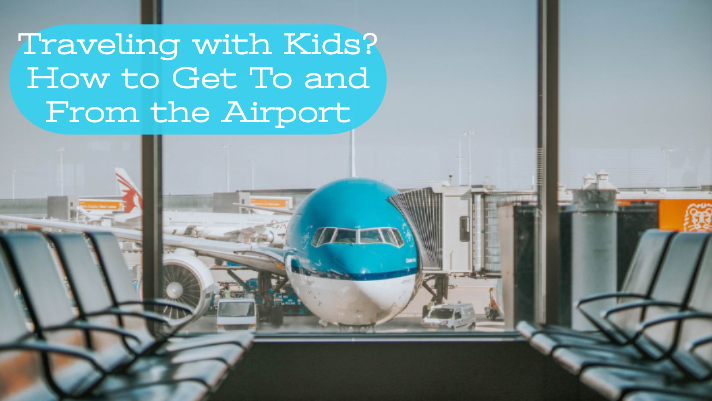 Traveling with Kids? How to Get To and From the Airport
If you have children, you know that they come with a lot of stuff — especially if they're young. You can't even go to the store without snacks, a change of clothes, and their favorite stuffed animal. Now imagine that you have to fly somewhere with your children. How are you supposed to get them, yourself, and all of their stuff to the airport and your destination? Here are some options.
Drive and Park at the Airport
There are pros and cons to driving yourself and parking at the airport. First of all, you will have car seats that are already installed, and you can leave home later than you would have to if you were taking other forms of transportation. It might also be easier to bring strollers and luggage in your own vehicle if it's large enough.
However, unless you have someone traveling with you who could drop you at the curb while they park, you will have to find a place to park and then transfer all of your kids and their stuff to a shuttle. This can take a while and be cumbersome. Parking at the airport can also be expensive, especially if you're going on a long trip.
Take an Airport Shuttle
An airport shuttle service also comes with pros and cons. A shuttle can drop you and your family curbside, which saves you the hassle of moving your kids and stuff from your car to a shuttle. Airport shuttle services can also be less expensive than taking a taxi or parking your car at the airport.
However, if you are traveling with a lot of people, a shuttle might actually cost more. You also might have to leave earlier if you take a shuttle because you may have to pick up other passengers. If your children are small, you may need to bring and install your own car seats.
Take Public Transportation
Public transportation can be a good option because of the cost savings; it will probably be the cheapest option. Depending on where you live, it can also be the quickest option.
Unfortunately, public transportation can include transfers, which might take longer and be difficult with small children and all of their stuff. Even if you don't have to transfer, you will still have to get all of your luggage, children, and possibly strollers on either a bus or train, which is no easy task.
Take a Taxi or Car Service
If you take a taxi to the airport, you can leave at the time that works best for you. You also have the advantage of being dropped curbside. A car service can have the same advantages.
On the downside, a taxi won't have a car seat for small children and will have limited room for people and luggage. You may also have a long wait for a taxi when you reach your destination and when you return home.
Many car services will offer car seats, however. You might have to pay a little more, but a car service will be waiting for you, so you can skip the lines, which can be hard for children who are already worn out from traveling.
Rent a Car
You can always rent a car to get to and from the airport, which can end up saving you some money depending on the length of your stay. You can even just rent a car to get home. Oftentimes, you can even rent a car seat.
Renting a car can be a bit of a hassle if you take the car home from the airport because you then have to return the car. You may also encounter lines at the airport for rental cars. You may even have to do the same schlep to the curb with your kids and luggage just as you would if you had driven your own car.
More than 3 million people fly every day; however, if you're traveling with small children, getting to and from the airport can be difficult. Depending on your situation, an airport shuttle or car service may be the best options. Whatever you choose, make a plan beforehand to ensure you make it to your destination and back safely and quickly.